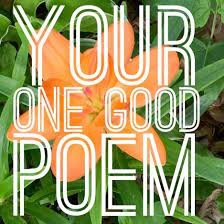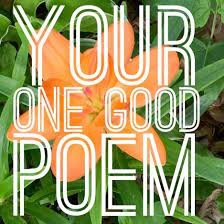 Explanation of Article Title Above:
"Middle Sabbath" = Pastor Bob's heavenly sent and worldly trademarked name for ANY Wednesday.
"Respite" = Defined as: "a short period of rest or relief from something difficult or unpleasant. (Like life!)
"Your One Good Poem" = See below.
The deeper I go on this amazing and mysterious journey with Jesus, the more I have come to love poetry. No … not all styles of poetry and certainly not all poets. Trust me, I'm no poet nerd! But, every couple of weeks or so, I just by happenstance come across a poem that melts my heart and fills my spirit. And there's no better feeling in the world than that! The poem I share with you today is one of those.
So, given that this "Middle Sabbath Respite/One Good Poem" is meant to give you some time away … not any place in particular … just away. Let's call it "away time." Away Time is when we find ourselves, whether intentionally or not, disconnected from the giant power strip that is our lives. It's kinda like everything in your daily duties gets unplugged, leaving the outlets open for power from above.
Take some "away time" today, and use this wonderful poem below to drift into another place. I suggest a "quiet as you can" place that is soft on the physical senses. Find a comfortable position that relaxes most, if not all, of your muscles. Then slowly read this poem below, with a whisper … and listen to yourself and the words you're speaking. Take a minute or two in silence, and then read the poem as you desire. Once more. Twice more. It's your choice.
All this can be done in as little as 10 "good" minutes. By the way, I refer to minutes as "good" if they are used for spiritual nourishment. But you could also take 30, 45 or 60 minutes with the poem, letting the quietness, the stillness, and the Holy Spirit, reveal meaning, if any, for you. Be sure to pray for that to happen before you start! And many blessings on your "Middle Sabbath Respite." I'd love to know how it turned out for you.
"Do not ask your children to strive" By William Martin
Do not ask your children to strive for extraordinary lives.
Such striving may seem admirable,
but it is the way of foolishness.
Help them instead to find the wonder and the marvel of an ordinary life.
Show them the joy of tasting
tomatoes, apples and pears.
Show them how to cry when pets and people die.
Show them the infinite pleasure in the touch of a hand.
And make the ordinary come alive for them.
The extraordinary will take care of itself.
<><
Disclaimer: I have already shared this poem with our Sunday morning 9:05 group. I hope you enjoy it as much as I do. It's especially fitting for parents and grandparents!
Open the heart within, and the spirit will flow from above, and fill it,
Pastor Bob <><
---