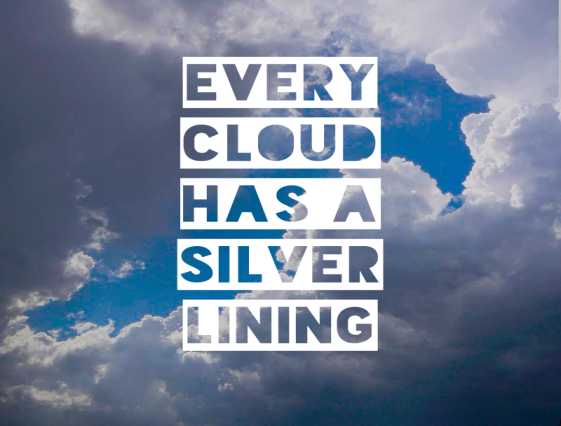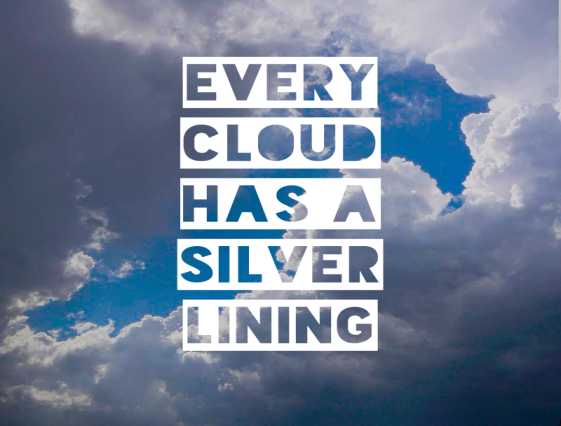 In the very first chapter of the book written by Jesus's brother James, he says this: "Consider it pure joy, my brothers and sisters, whenever you face trials of many kinds, because you know that the testing of your faith produces perseverance. Let perseverance finish its work so that you may be mature and complete, not lacking anything."(James 1:2-4)
Pure joy? Seriously? How can this trial of perseverance we're in, be used for "pure joy" and help us become "mature and complete, not lacking anything"? If James himself were here, we could ask him that. But he's not. So let me take a stab at it.
With all the darkness of the COVID-19 crisis around us, there still remains some light … some silver linings. Start with the heroic efforts of so many health care workers and first responders who are willing to risk sacrificing their own lives, literally, for us. Jesus says that there is no greater love than this; "to lay down one's life for one's friends." (John 15:13)
Not nearly as dramatic, but still a significant silver lining for all of us, is the "acquisition" of more time in our lives. Our culture has come to a point where time is considered more valuable than money. Our schedules are full. Our time is taken up. We are busy people and we have come to like it that way. But now, during this crisis, things have changed. As Mick Jagger says, "Time is on our side." This is just what we've been praying for – remember? "If I only had more time." "If I can squeeze it in." "I just wish I had one more hour." Well, we do.
Friends, those days are here! And now that we know they're going to be around for perhaps another month at least, let's use this time wisely and do our best to fulfill the expectation that James has for us – "so that we may be made mature and complete, not lacking anything."
Now that's a pretty big order. But I've got a suggestion. Let's take this gift of time in the month of May to reintroduce ourselves to Jesus … or perhaps meet him for the very first time. You deserve that. No longer will you have to rely on what other people say or what you've been taught to believe. Spend some of your precious time and deepen your relationship with Jesus, who came to this world so that you could, by faith, be made complete, as James would say. After all, can you really know enough about Jesus?
But before you jump the gun and start seeking and searching for Jesus, I want to offer 4 tips from a book I've been reading called "The New Testament in Its World" by N.T. Wright. Wright offers some insights to help us and guide us when we head out looking for the real Jesus.
1) Start with the truth about your relationship with God: You were made by God … and for God; and you are made for God's glory, to worship God, and to reflect God's likeness in your life. Not only that, but doing that is your heart's deepest desire, even if you don't realize it yet. And John 1:18 tells us that though no one "has seen God," God has been revealed to us in Jesus Christ. Thus, when you go looking for Jesus, remember that you are looking for the revelation of God in this world. Seek Jesus … Find God.
2) The absolute primary source for finding out about Jesus is the 4 Gospels that form the beginning of the New Testament. Ever since He came, there have been many secondary and alternative "sources" for finding out about who Jesus is. Often, those sources are other people in our lives! That's called, good intent – failure of execution. The only way for you to discover who Jesus really is, is to build your own personal relationship with Him. Do it for yourself! Jesus cannot meet you and form a relationship with you based on what other people say or believe. He wants to meet you in person! And that begins in your heart, with a little prayer and a little faith (just the size of a mustard seed), where the Holy Spirit can guide you through the Gospels as if you're reading it all for the very first time. Don't believe me? Try it. And if you do, the first thing you'll learn about Him is that He already loves you … just the way you are … and wants you to love Him the same way.
3) The reason this is so important is because we are all attracted to "the truth." We all have an inherent desire, as we found out in the Garden of Eden, to know the ultimate truth. Well, here's some truth: truth starts and ends with God. But God's truth is infinite and endless. Too much for any human being to handle, or even imagine. So how do we get a handle on God's truth? From Jesus. In the Gospel of John, Jesus says, "I am the way, the truth, and the life." (14:6) Jesus, again, is the revelation of God's truth given to us in a way that we can see it, hear it, and get to know it. And, eventually, love it. So, as we pursue this new relationship with Jesus, know that he will lead you to truth. Truth is now a person. One we can comprehend, if we dare. And what we usually find is that the truth of Jesus we discover is different in many ways from the Jesus other people were introducing us to.
4) Understanding the truth about God through Jesus is so important because of the mission that we are all called to. Jesus isn't just the revelation of truth for us; he is also "the way" and "the life" for us. And He is calling us. And sending us," out into this world that we live in to share his love with others. When we do that, we are living his life. The way – The truth – The life. No more precious gift exists than living like He did. But be prepared as you set off on this journey. You will find out that following Jesus isn't only a great gift; it's a sacrificial one too. And for many people, that's where they draw the line. They still think they know truth, and who Jesus is, but they haven't really met him. Trust me on this. When you meet Him for yourself, all over again or for the very first time, you will know in your heart His truth for you today.
Do you think you're ready for that? Most of us are so embedded in our daily routines and beliefs that we cannot even imagine there is a more abundant and greater life for us just by meeting the real Jesus. Many of us think we already know the real Jesus and for the most part, it's working well enough. But Jesus has other plans for you. Your "good enough" life is not the same as the "abundant" life He has to offer you. And that's … the truth.
Go ahead. Pick up a Gospel. Pray for the Holy Spirit to be with you. And start reading. You've got the time, and you'll find Jesus there, and He's been waiting a long time.
#More Jesus – Pastor Bob
---