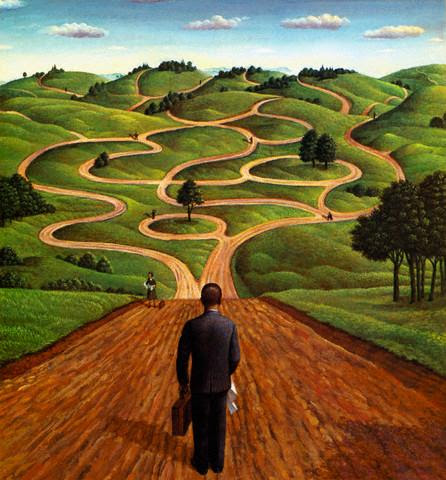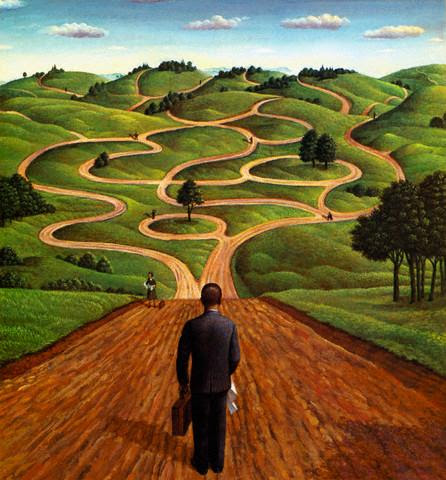 (This article appeared in the Arthur-Graphic last week. In case you missed it, I thought it might be helpful as think about your own Lenten journey ahead.)
I remember one of my favorite trips as a kid. My cousins had come from Ohio to Lexington, KY (where I lived) on their way to Mammoth Cave, in the western part of the state. I had heard a lot about Mammoth Cave, but had never been there, so they decided, with my parent's permission, to take me along. It was exciting to be going on an excursion like this without my parents!
We did a lot of neat things around the caves, but of course, going into the Mammoth Cave system was my favorite. At that time, it was without a doubt the most exciting journey I had been on in my life. It was a journey into the great unknown – the dark – the underneath – the mysterious – all wrapped into one.
In order to go into the cave, you had to be led by a guide. A guide is the person who knows the way. They have been there before. They know what to look for and what to avoid. And they are equipped if anything goes wrong – they have a light and a first aid kit and some water. Without a guide, there is no way of taking the journey safely, or successfully. But with the guide, we knew we were in good hands, and we could settle in and truly enjoy the journey.
Later in my life, much later, I came to realize that while the journeys we take outside of ourselves are fascinating and exciting, the most important journeys that we take in this life are the ones within ourselves. As I have delved more and more into the meaning of God in this world and my relationship with God, I came to understand that the life within me, where God is, is my vast unexplored frontier.
God has planted a divine spark within each one of us, and at some point in our lives, we must come to discover that place within us where God lives. It's a place that reflects our eternal nature, not just our earthly existence. There is a part of each one of us that was in existence before we got here, and will exist after we leave here. It's our eternal being. It's what truly defines who we are for eternity, not just who we are in this world.
Seeking that place in our lives is the most important and fulfilling journey anyone can take. When I was younger, I thought that trip into Mammoth Cave was a journey into the great unknown – the dark – the underneath – the mysterious. But as I have grown older, I have come to know that the spiritual journey within is the greatest journey of life for each of us.
But, as I learned from my trip to Mammoth Cave, it's never a good idea to journey into the unknown without a guide. Just as we had a guide to lead us through the caves back then, today I have several guides who help lead me through the mysteries of the great unknown within me. Without them, I would be lost, and afraid, and I would be left in the darkness. But with them by my side, I can settle in to this amazing spiritual journey I am on into the depths of my soul. I can listen to their voices explaining to my why things are the way they are, and how with God, all things work for good.
We all need guides like that! Here are some of mine that have accompanied my on my journey, and who continue to lead me to the light, the divine spark, that is deep within.
1) Thomas Merton: the late monk from the Abbey of Gethsemane in Kentucky (not far from Mammoth Cave!) who helped me see that the mysteries of the inner life are all reflected in the smallest and simplest things around me. God's creation is the model for perfect harmony that we all crave, and can experience within ourselves. But first, we must surrender our quest to live for external things, and come to trust God for everything in our lives. Then, and only then, will we be given the eyes to see the internal, the spiritual, and the eternal things of our lives.
2) Richard Rohr: this priest runs the Center for Action & Contemplation in New Mexico. He has helped me understand what I always believed in my heart to be true – that there is a universality to God that touches every part of creation, including every single person, and for Christians, that universality is represented by Christ, who as John's Gospel tells us, was the in the beginning and nothing came into creation except though him. Beyond all the labels that we throw around about others, we are all actually of one family – one tribe – one spirit. No matter how much the world wants to divide and separate us. And the sooner we live into this reality, the more harmony comes into our life and the more of God's peace we experience.
3) St Augustine: He was the Bishop of Hippo who came to God the way many of us do – through the dark and flaming pits of hell. His autobiography, "The Confessions," is a story that could be written about many of us. "How long, O Lord, how long have I waited to love you?" Augustine tells us that the journey within is always hard, and scary, and lonely, but worth more than all the diamonds in the world. He is the prefect guide for one like me. He's been in the same places I've been. And he has helped my crawl out of them, with him by my side, one day at a time.
4) John S. Dunne: was a theology professor at Norte Dame who wrote more than 20 books. His ability to understand and explain the connection between the inner life and eternity was crucial for my journey to move beyond the temporal existence I am living right now as a mortal human being. Because of Dunne, I have gained a much better grasp of my life as an eternal event that exists both within time and beyond it. I always knew that my life was more than just this earthly existence, but Dunne explained it to me in a way that absolutely convinced me of it, and thereby filled me with the faith of an Abraham – meaning, the journey to the promised land is not a destination to reach, but rather, the journey is the life – and the promised land is all around us!
Of course, many of my most important guides are people that God has put into my life on any given day. I wonder if you have some guides in your life as you seek more and more of God's divine spark within you. Obviously, my guides may not be the guides you need. We all have a completely unique inner journey to make with God, and I would love to hear about the guides who have helped you on your way. Please be encouraged to text me or email me and share with me some of the folks who are helping to guide you on your way.
With much peace and grace, Pastor Bob Text: (859) 351-9585 Email: bobsilvanik@gmail.com
---