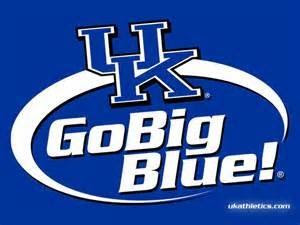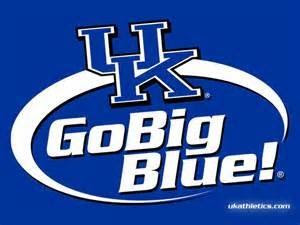 Since moving to Illinois about 3 years ago, I must say that I'm impressed with the fan loyalty and dedication to University of Illinois sports teams. The football team was much improved and went to a bowl game last season, and the basketball team has played well all season, and is battling for the Big Ten crown. And just about everyone here is an Illini fan!
Of course, I'm a big fan of University of Kentucky sports. I grew up in Lexington and played baseball for the Wildcats. Go Big Blue! But UK basketball is known in Kentucky as the state's official religion. Everybody is all in, and the fans live and die with each game.
Because of their extreme popularity, UK players are celebrities in the state. Fans from one end of the state to the other know just about everything there is to know about these 18 and 19 year olds, and because of that they have a monumental influence on the lives of the fans. Fans will find out the players' favorite ice cream flavor, music performer, restaurant, brand of jeans, hair style, tattoos, and anything else that comes to mind, and will adopt the same favorites as the players. That is monumental influence, especially for teenagers.
But I wonder if knowing all those things actually helps us to know the players very well. I'm always curious about the faith lives of players, and every so often will play a video or tell a story in church about the faith life of a sports star. So, when I came across this article about the faith lives of 3 UK players, I soaked it in. I realized that of all the trivial things we want to know about "our" players, we rarely hear about their relationship with God and how that impacts their life in sports.
I hope you enjoy it as much as I did … and I hope that in some way it peaks your curiosity about the faith life of "your" players. At the very least, perhaps we should pray for God to be mighty in their hearts … instead of praying about winning the next game!
"A LITTLE CHILD SHALL LEAD THEM" Immanuel Quickley prepares faith-driven Wildcat team for postseason success
By Dr. John Huang
Kentucky's Immanuel Quickley just did something that has never been done. The Wildcats' sophomore guard just won his second straight SEC Player of the Week award. Immanuel's numbers on the court this season have been supremely impressive. But it's his faith-based leadership among his teammates that will have far more eternal significance.
When asked what he likes about this year's team, Coach John Calipari was quick to point out his talented backcourt trio. "I like that we're playing three point guards," said Kentucky's hall of fame coach.
Although Ashton Hagans, Immanuel Quickley, and Tyrese Maxey may eventually lead Calipari's team to another coveted national championship, there's another trio of Wildcats who will ultimately guide them into the sacred Promised Land.
When it comes to spirituality on Kentucky Wildcat basketball teams, I don't recall a more outwardly vocal trinity than Immanuel Quickley, Nate Sestina, and Keion Brooks. The three are part of eight scholarship players this year who are rapidly capturing the hearts of BBN (Big Blue Nation).
We're all familiar with Quickley's story. The sophomore guard from Havre De Grace, Maryland has stated on numerous occasions how important his faith has been to him. A devout upbringing, an active church life, and studying God's Word have been the hallmarks of his early life of piety.
"I started putting God first," Immanuel—which means 'God with us'—told us at a recent media session.
That means getting up early and starting off each day with a daily devotional. Having glided through the Psalms, the Gospel of Luke, and now on to the Book of Isaiah, the Wildcats' most consistent player appears poised to finish out this season with some pretty God-sized biblical accomplishments.
"Honestly, I know why I read the Bible," he explained. "I think just starting from the beginning and trying to read it to the end like it's a regular book—it gives me something to look forward to. Instead of just reading random stuff, I keep building and having something to go back to."
Immanuel's dedication to God's Word has not been lost on Nate Sestina, his traveling roommate on road trips. The two have developed a special bond, occasionally even delving into some deep spiritual discussions. Taking after Immanuel's lead, the graduate transfer from Bucknell has faithfully relied on Scripture in his attempt to bolster confidence in himself.
"I follow this Bible verse very closely," Nate shared with me after a recent practice session. "It's Proverbs 16:3—'Commit to the Lord whatever you do, and he shall establish your plans.' I've actually talked to Immanuel about it. So, he likes it a lot too. But, just believing that whatever I do, that God's got me."
Keion Brooks is another Wildcat who's not afraid to talk openly about his Christian faith.
"It's extremely important to me," the 6'7 freshman from Ft. Wayne, Indiana has admitted on several occasions. "It's a big part of who I am."
Brooks, when speaking to reporters, often appears reticent and shy. But he was bold and confident when talking about the gratitude and contentment stemming directly from his biblical beliefs.
"God has blessed me with being able to be here to wake up every day," he said with an unmistakable look of serenity. "Being able to be a part of this great program. Being able to meet so many great people throughout this world. Just blessing me with the talent to play basketball. Basketball has taken me all over the place, all over the country. I just want to pay my dues back to Him because He's just put me in a great place with a great family and support system to do some phenomenal things. So I just got to make sure I do my part to play hard and continue to believe in Him."
When John Calipari tells us over and over that these are good kids, it's not just coach speak. From what I've gleaned, this year's crew consists of a bunch of really GREAT kids—kids that know their roles, kids that are fully aware of their exalted status as Kentucky Basketball players, and kids who will hopefully bring the Wildcats another national championship.
As Immanuel Quickley is learning in the eleventh chapter of Isaiah, "The wolf also shall dwell with the lamb, the leopard shall lie down with the young goat, the calf and the young lion and the fatling together; And a little child shall lead them."
I'm not sure whether God is necessarily a University of Kentucky Basketball fan or not. But it sure can't hurt that Immanuel Quickley–whose Twitter handle just happens to be @IQ_GodSon–obviously has his priorities in the right place. Whether on the basketball court or in the arena of eternal life, you can be certain that @IQ_GodSon is getting everyone ready for the day of reckoning.
I'm ready. Are you?
Dr. John Huang is a regular columnist for Nolan Group Media. If you enjoy his writing, you can follow him on Twitter @KYHuangs
---